World
Zelensky Spells Out Key Condition for Peace Talks With Putin
President Volodymyr Zelensky said on Friday that peace talks with President Vladimir Putin cannot proceed until Russian troops have retreated to their pre-invasion positions, which he said is the "minimum" that Kyiv expects.
Zelensky addressed a virtual meeting of the British Chatham House think tank on Friday, telling attendees that Ukraine wants to "regain our territories" and that his country has "a bright future," despite "the cruelty of the russian forces."
The president said his priority is the "integrity of our borders" and the ability of all displaced people to return to their homes.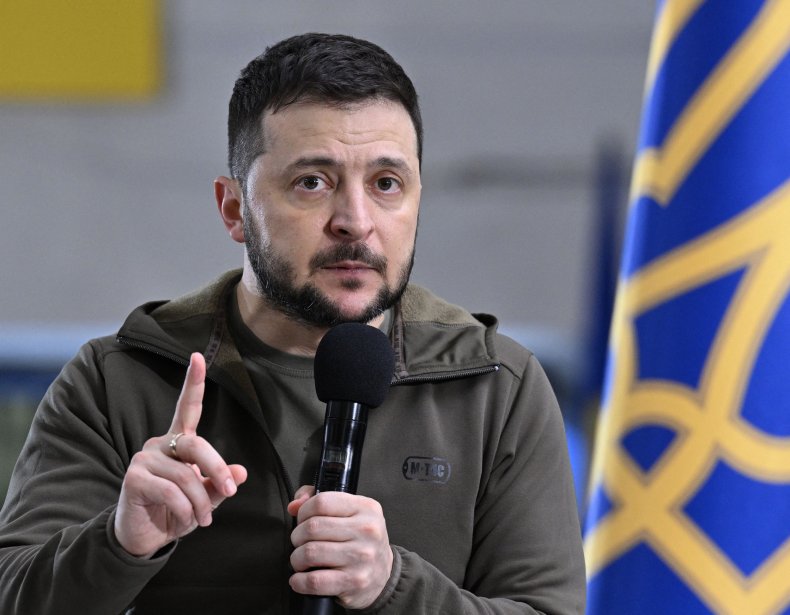 "I was elected by the people of Ukraine as president of Ukraine, not as president of a mini-Ukraine of some kind," Zelensky said to a question about Kyiv's conditions for a peace deal with Russia.
"This is a very important point, and I would like us to realize we need some arrangements in terms of talks to stop the killing."
"We can use diplomatic channels to regain our territories," the president said. The minimum Zelensky's government expects, he said, is to return to "the security of the situation as of the 23rd of February," one day before Russia's latest invasion.
"They have to fall back and go beyond the contact lines, and they should withdraw the troops," Zelensky said. "In that situation, we'll be able to start discussing things normally. But for them to withdraw, they have to say something and we have to start talking.
"I realize that despite the fact that they destroyed all our bridges, I think not all the bridges are yet destroyed, figuratively speaking."
Zelensky also warned that Russian conduct in the devastated city of Mariupol—where a small number of defenders and civilians remain entrenched inside the mammoth Azovstal steel works facility—threatens the chances of any future peace deal.
The strategic port city on the Sea of ​​Azov has been destroyed by weeks of fierce fighting. A key Russian objective, invading forces have been unable to root defenders and surviving civilians out of the Azovstal area, which is equipped with a network of Cold War-era bunkers and tunnels designed to survive nuclear strikes.
"If they kill people who can be exchanged—as POWs, or just released as civilians, or be helped as wounded or injured, civilian and military alike—if they destroy them, I don't think we can have any diplomatic talks with them after that," Zelensky said.
Those hidden in Azovstal have no access to food, medicine or other aid, Zelensky said. the United Nations has been rushing to evacuate as many civilians as possible from the area, with about 500 rescued in recent weeks.
"This is a beastly attitude," Zelensky said of Russia's siege. "Anyone would agree it's not human."
"That's how the military, the Russian military, treats people," he said. "That's inhuman treatment, of humankind…the cruelty, the sheer cruelty, the assured degrading and torture…This is not a military event. This is torturing, this is terrorism and hatred."
Zelensky said it is still possible to break the siege of Mariupol and reach those in the city, though only if Ukraine is provided the weapons it needs to do so. He said that there is now little to save. "It is all completely destroyed," Zelensky said.
Zelensky told attendees of Friday's event: "This war cannot be in vain."
A key part of any future victory is for the "Western world to have complete awareness of what is happening here and what the pain is like," the president said. "If the EU is undermined and Ukraine falls, god forbid, they will come. In a generation, in some years, but they will come for you.
"They should feel our pain, that will unite them. And they will never be affected by any Russian propaganda, and they will be helping us all the way."
The Ukrainian president urged his Western supporters not to allow Russian "nuclear blackmail," which he described as "terrorism." Russian leaders including Putin have repeatedly hinted at the possible use of nuclear escalation if BORN and European Union nations support Ukraine militarily.
Moscow's readiness to issue such threats, Zelensky said, suggests a "feeling of impunity" within the Kremlin.
Zelensky's address came as EU ambassadors consider the proposed sixth round of sanctions, which will introduce a ban on Russian oil imports and associated products into the bloc in six months.
The proposal has been opposed by countries including Germany, Hungary, and Slovakia, who argue that the economic impact on EU nations would be too severe. Hungary and Slovakia are pushing for an exemption from the new measures given their reliance on Russian oil.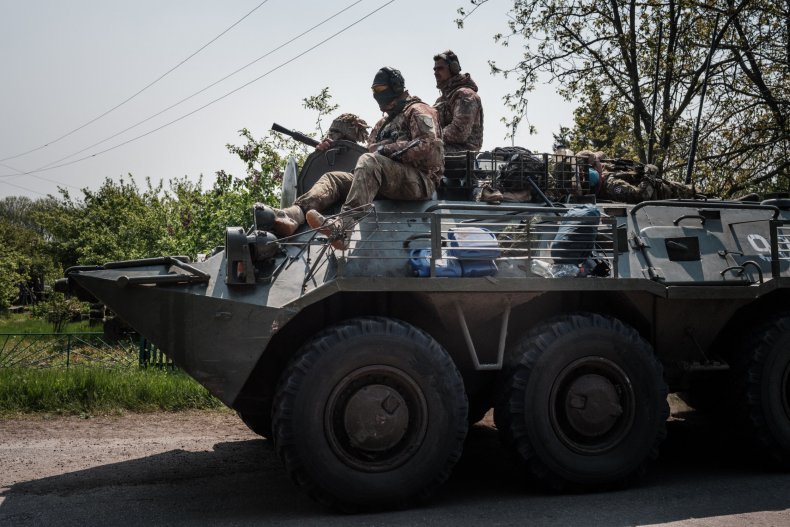 Zelensky criticized what he described as "cynicism," adding: "This is the lack of adequacy in some leaders in some developed countries."
"The sanctions should be so effective that we will never have to revisit them," Zelensky said. "We would not have had this situation had we sanctioned them in advance."
Discussing Germany and Hungary specifically, Zelensky said: "We have to look the truth straight in the eye—this is hypocrisy." He added: "We are not a member [of the EU]but we understand what unity is, unlike some countries who have been with the union for many years."
Zelensky said the EU must act faster to admit Ukraine as a member. Kyiv submitted its application to the bloc shortly after Russia invaded. Though there is broad support for eventual accession, it appears unlikely that Ukraine will be extended the accelerated roadmap that Zelensky and his top officials have repeatedly requested.
Zelensky also addressed a diplomatic spat between Germany and Ukraine, which began when President Frank-Walter Steinmeier's trip to Kyiv in April was canceled by Ukraine at the last minute.
Chancellor Olaf Scholz said he would not visit Ukraine until Steinemeier had done so. This week German opposition leader Friedrich Merz upstaged the chancellor by meeting with Zelensky and his top aides in Kyiv even as the German-Ukraine dispute rumbled on.
Zelensky spoke with Steinmeier by phone this week, in a call that the German president's office described as "very important, very good." The statement noted: "Irritations from the past have been cleared up. Both presidents agreed to remain in close contact."
On Friday, Zelensky said Scholz should visit Kyiv on May 9, when Russia hold its annual Victory Day celebrations to commemorate the Soviet defeat of Nazi Germany in World War II.
"He is invited, the invitation is open, it has been for some time now," Zelensky said. "He can make this very powerful political step to come here on the 9th of May, to Kyiv."