Entertainment
Moon Knight Producer Reveals Eternals' Scrapped Cameos (Exclusive)
Moon Knight you have finally finished your freshman run on Disney+. The series saw Oscar Isaac's titular hero deal with Disassociative Identity Disorder, living within two separate persons – Marc Spector & Stephen Grant – all while being possessed by an Egyptian God. Alongside the series' extraordinary protagonist, a unique aspect of Marvel Studios' first 2022 project was its minimal connection to the Marvel Cinematic Universe.
That's a rarity in today's day and age when it comes to the MCU; one of Moon Knight's very few references to the outside Marvel world was a name drop to Mandripoor, a city with a deep history in Marvel comics that was also featured in last year's The Falcon and the Winter Soldier.
ADVERTISEMENT
It was recently revealed that two Marvel crossovers were cut from earlier drafts of Moon Knight's script. Now, head writer Jeremy Slater has revealed a massive Marvel cameo that he had to take away for the good of the show: the Eternals.
Moon Knight Removed an Eternals Scene
In an exclusive interview with The Direct's Russ Milheim, Moon Knight head writer and executive producer Jeremy Slater opened up about the Eternals' scrapped appearances from an early draft of Moon Knight's script.
Slater revealed that "[he] tried very hard to get the Eternals," specifically Kumail Nanjiani's Kingo, into a flashback sequence set in Ancient Egypt. According to Slater, "3 or 4 of the Eternals" would've partaken in a "big action sequence" involving one of Khonshu's Avatarsyet the "massively expensive" concept was the main reason for its removal:
ADVERTISEMENT
"I tried very hard to get the Eternals into the show, just because I'm buddies with Kumail Nanjiani… I want[ed] some Kingo. At one point, there was a flashback on the page that sort of showed one of Khonshu's Avatars back in ancient Egypt, sort of dealing with Ammit being locked away, and Alexander the Great, and all of that stuff. You sort of saw this Avatar team-up with the Eternals. It was a really fun scene, but again, it was so massively expensive to recreate Ancient Egypt, to sort of bring in 3 or 4 of the Eternals to have this big action sequence."
The Eternals' sequence would've been the "cold open to one of the episodes." While Slater acknowledged that it was "a very fun scene," he believes that scrapping it "was also the right thing to do for the show," specifically its VFX-heavy finale:
"It was one of those things where it was a very fun scene, and it would have been a great cold open to one of the episodes, but it also would have had to come out of our budget somewhere else, and probably would have hurt our finale along the way. So, that was the cameo I had to cut. It hurt, but it was also the right thing to do for the show, and I think everyone sort of collectively agreed. There's plenty of time in the future to team this guy up with other characters in the MCU and start building these connections; let's not force something just because the other shows have all had it."
Why Did Marvel Cut the Eternals' Cameo?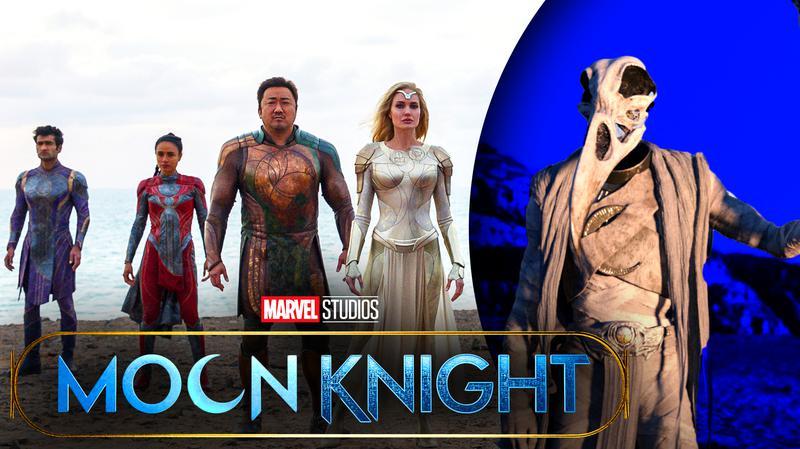 Este Moon Knight & Eternals crossover truly would have been something else. The grand scope of it could have easily become one of the most highly regarded scenes of all the Marvel Studios Disney+ content to date. Just imagine seeing an ancient Khonshu Avatar side-by-side with four Eternals as they take on a Kaiju-sized crocodile God—it would have been an unforgettable experience.
But who would have joined in on the fun? Besides Kingo, the fighters of the group, including Don Lee's Gilgamesh and Lauren Ridloff's Makkari, would have been the most likely candidates. Ikaris and Thena, played by Richard Madden and Angelina Jolierespectively, may have been too difficult or expensive to include regardless, due to their actors' schedules and pay expectations.
ADVERTISEMENT
It's completely understandable as to why it was cut. Budget-wise, it would have easily wiped away most of their reserves, and the finale fans just witnessed undoubtedly needed all the money it could get. In fact, that one hypothetical scene would have blown the entire final episode out of the water when it comes to the grand scope of it all.
Though the show's distance from the MCU may be one of its strongest features, it still would have been nice to have some big connection at some point within the six-episode run. This connection could have been a character showing up in full force or even just some more general references to the wider Marvel Cinematic Universe.
Despite the reception of Eternalsfans would likely have still been thrilled to see the characters crossover to another project, even if just for the scene.
ADVERTISEMENT
Moon Knight is now streaming on Disney+.
.