Sports
Is This the End for Joey Votto?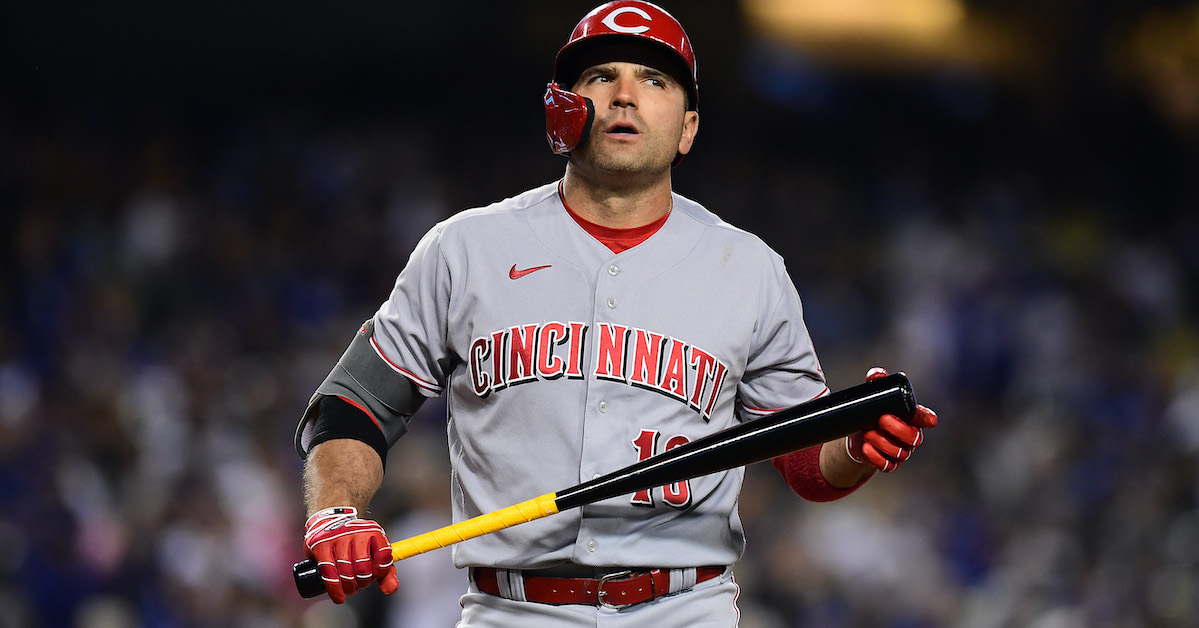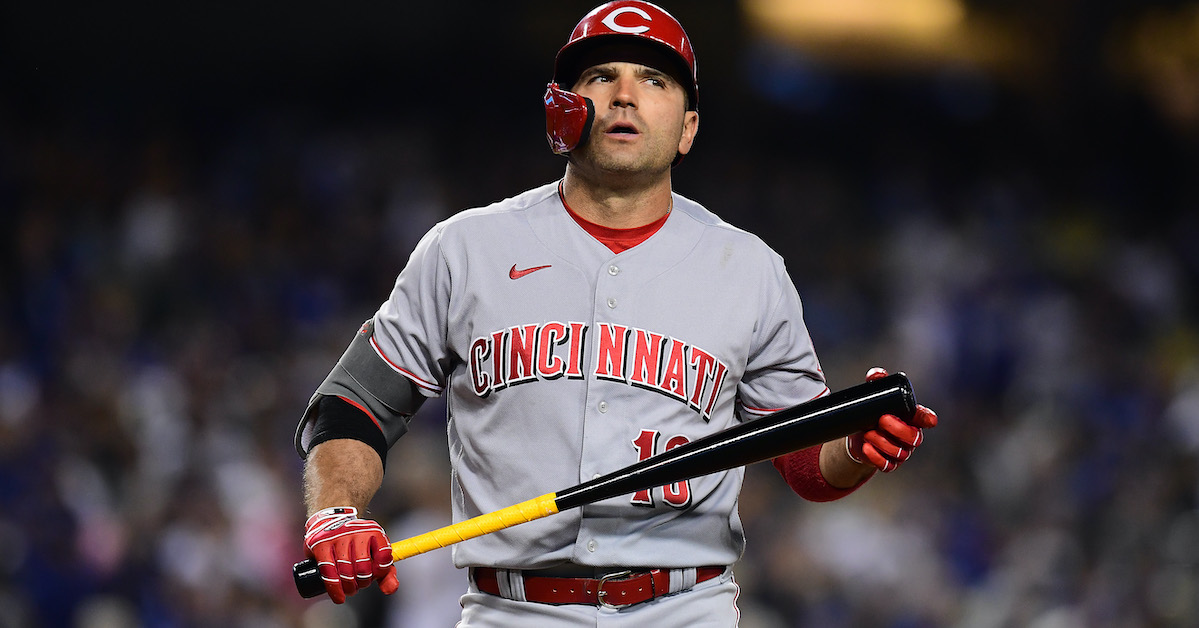 "If something cannot go forever, it will stop." Credited to economist Herb Stein, this tautology, sometimes known as Stein's law, has broad application past the field of economics: the Earth will end, the sun will end, the ability of the universe to sustain life will end, all the non-top-chef shows on Bravo will end (hopefully), and we'll end. Joey Votto does not exist outside of the space-time universe, and his 2022 season so far makes it look like his career will end before all of these things. Or will it?
Votto's career has looked shaky at times before, but he has made comebacks before: from a leg injury that cost him half a season, a mid-career power outage, and a huge dropoff in play at age 35. He's had enough successful comebacks to become a rarity in baseball: a highly paid star first baseman who doesn't make his team regret a very large contract covering his 30s. But while he's gotten off to slow starts before, a .122/.278/.135 line is something else.
Perhaps even worse is that so many of his non-baseball card stats look abysmal as well. Votto is striking out at nearly triple the rate of his 2017 peak. His soft-hit and hard-hit percentages of 22% and 20%, respectively, are closer to Ben Revere than a slugger, and those numbers are twice and half his career rates, respectively. Votto's average exit velocity of 86.4 mph is six ticks off last year's 92.9 mark, and his 70% contact rate is the lowest of his career.
Unsurprisingly for someone with a well-deserved reputation as one of baseball's deepest thinkers about batting, Votto had an explanation — one he shared with The Athletic's C. Trent Rosecrans, who talked with him last week about his change in bats:
More than that, it just didn't feel right. Votto wasn't hitting the fastball — and he didn't all spring, either. Votto said he was identifying pitches quickly, and he'd start his swing from him. The feeling at the point of contact was just off, failing to find the barrel of the bat.

"(I) just not getting to the spot I was expecting to with the barrel," Votto said. "The ball just kept getting rolled over, fouled off my leg, swing through. A combination of recognition and swinging didn't lead to the results that I was used to."
Votto is certainly right about one thing here: He's been one of the best hitters over the last decade against fastballs.
Best Fastball Hitters, 2002-2022 (min: 1000 PA)
Votto switched back to his old bats last week, but the (extremely) early returns haven't been much better, as he's 1-for-18 with six strikeouts and an 83.5 mph exit velocity on 12 batted balls since. While I'm hoping that it turns out that it was the bats, and there's some classic Votto just waiting to break out, I'm pessimistic for a few other reasons.
One of the factors behind Votto's big power season in 2021 was that he was swung at far more good pitches and walloped them. This year, he's been even more aggressive, but almost entirely against out-of-zone pitches, unlike last year, when he bumped his zone swing percentage from 60.0% to 71.5%. Early-career Votto was equally aggressive, but early-career Votto also made better contact, and 70.3% is a career-low and about five percentage points worse than the league average. In other words, it's not just his exit velocity from him being down; he's making worse decisions at the plate.
As Votto's whiff rate has increased, he's actually missing less often on fastballs. Instead, it's his swing-and-miss rate against breaking balls that's soared, and given that he's also at career-highs in pulling breaking pitches with little change on fastballs, I suspect that he's trying to cheat on Father Time and compensating for slowing bat speed by going dead-red fastball more often. Both ability and decision-making are fueling his slump from him as much as his bats may be, and one of those is very hard to remedy.
Another reason that I'm skeptical that changing bats will fix the problem is that Votto did hit very well in Cactus League play, going .282/.317/.590 with only five strikeouts in 39 at-bats. Now, spring training is a small sample of exhibition play against mixed quality pitching, but if the effect of a bat change is SW significant that it can turn a slugger into a pitcher, I expect that we'd be able to see much more substantial evidence of it here.
Does Votto have one last comeback in him? That's what most baseball fans, including myself, want to see, but history hasn't been kind to aging players starting Este poorly. Only 25 players in history age 37 or older have had an OPS under .550 in April (in at least 50 plate appearances); Votto's performance ranks third worst.
Worst OPS Aprils, Age 37+
SOURCE: Baseball-Reference
Most of those players did play significantly better after April; the median bump the rest of the season was about 200 points of OPS. But with the exception of one final big run for Edmonds and Brett, they were all pretty much done as good hitters, let alone stars. About half retired after the season, and most of the rest followed suit quickly.
Looking at more robust ways of predicting Votto's fate, projection systems generally give him a bounce — ZiPS to a 106 wRC+ the rest of the way, Steamer a 97, and THE BAT a 103. But when using full-fat ZiPS with plate discipline data and the like rather than the 2%-fat model that can run every morning, it drops off considerably to equal Steamer's 97 wRC+ prediction. While certainly more respectable than his season of him so far, that would be one of the worst performances of Votto's career, on the level of the 2019 season that made people worry that he was reaching the end.
The good news is that with the Reds completely out of the race and almost certainly beyond the point of salvageability, there's no particular urgency for them to search for solutions at first base other than their long-time franchise player. Nor is there a hotshot first base prospect in Triple-A who could push for Votto's job; Jake Bauer and allen cordoba can no more threaten Votto than I can threaten a Rottweiler with a steak sandwich. If anyone can recover from this tailspin, it's Votto, who has come back before and is an inveterate tinkerer who is always willing to change his approach from him at the plate. I'm not hopeful, but I'd be very happy for Betteridge's law of headlines to score another win here.