Health
I hate working out, but I loved my Reformer Pilates class
Estimated read time: 4-5 minutes
Pilates reformer.
It may sound like an intimidating workout, but rest assured, it's anything but.
Don't misunderstand—it is a workout. But you'll enjoy it every step of the way—and this is coming from someone who loathes exercise. The high-intensity classes and cardio jumping to crazy music aren't my scene. Additionally, I get so bored when I lift weights or walk on the treadmill. But Pilates Reformer is about concentration, proper form, and low-intensity muscle training. It takes the grace of muscle toning combined with deep breathing and concentration and turns it into an exercise art form.
The benefits of Reformer Pilates
Tianna Strateman, VP of Education for Club Pilates, told NBCnews"Both the equipment and the exercises can be modified and adjusted to any body, which makes it perfect for those looking to tone up, rehab from an injury, train for a particular hobby or sport, or for those looking for low impact, full -body workout."
Balance
One 2017 study found that adults aged 65-95 who participated in Reformer Pilates once a week for 10 weeks had a decreased fall risk and better balance, mobility, and range of motion.
Stress reduction
Another study, published in the Journal of Physical Activity and Hormonesfound that sedentary women who participated in Pilates three times a week for eight weeks had decreased body fat percentage, cortisol levels (a stress hormone), and stress levels overall.
Immune system health
Pilates can also improve your immune system—something particularly important in recent months. A 2019 study found that older men who participated in Pilates classes had more power to fight off infections and improve their health.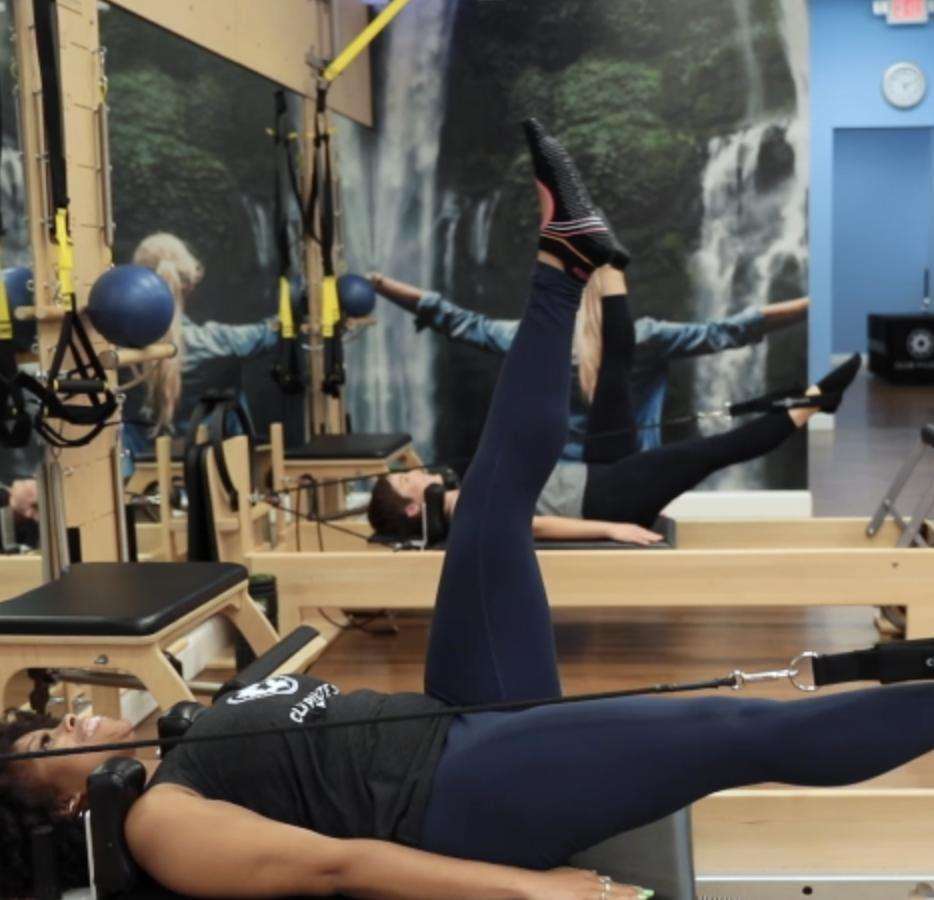 What you can expect in a Reformer Pilates class
I first attended a pilates class about four months ago, and I knew I was hooked the minute I left. When you first walk into a pilates class, you might wonder if you're in the wrong room—simply because of the look of the reformer machines. But the machines are there to help you! They take the stress off your joints and help you isolate certain muscle groups for optimal toning and strengthening.
It's also worth noting that nobody in the class looks alike. I'm not a small woman, and I'm not the only one outside of a size 2 attending the class. There are women and men of all ages—even into their 80s and 90s—in every class. So don't let the concern of being new to pilates (or exercises) intimidate you. Reformer Pilates is for everyone.
Instructor Tami B. says, "Club Pilates is for all ages, body types and injuries. Club Pilates Sandy is a true family and a non-judgmental place. I've made so many friends and have a great support group there."
The members taking classes also recommend the atmosphere at Club Pilates Sandy. "The inviting atmosphere and new friendships I've made at Sandy are unique among the many CP studios I've attended in several states. Here they know everyone's names, their health concerns, and create joy. It's personal. You're not just to 'customer.' It's the best thing I've done for myself in a long time, says Sandy member Marcia H.
Depending on the teacher and the vibe of the class, the instructor will have some light music playing in the background. You're meant to hear the instructions and feedback from your instructor, so the music won't be blaring or distracting. There are also mirrors in the room so you can observe your shape and adjust as needed.
Everyone has their own reformer machine, which is primarily what you'll be using for the class. Using resistance springs and your own body weight, you'll do different exercises similar to squats, lunges, calf raises, bicep curls and more.
The difference between these more traditional movements and reformer pilates is the feedback from the instructor on your form, and also the support you'll receive from the reformer. With these traditional exercises, it's much easier to injure yourself or use incorrect form, which can lead to injuries.
Paula Lester, a Pilates instructor and manager told NBC News, "Pilates reformer work focuses on core strength and proper muscle engagement which improves athletic performance, back pain, injury recovery, weight loss, balance, bone density and posture to name a few. It is a movement system designed to better our everyday life and well being."
Try your first class free!
At the Sandy Club Pilates, you can come and check out the studio and talk to the friendly teachers there to see if Pilatets is as good fit for you. They're hosting an open house on May 6 from 6-8 with food and beverages. If you're convinced you want to join in on the fun, you can try out your first class for free! On May 7th, Pilates Awareness Day, you can take a free intro class at either 12 pm or 1 pm
May is National Pilates Month, so the celebration is real at Club Pilates. If you decide Pilates is a good fit, you can get January pricing in May! To claim your free class, visit clubpilates.com today.
×
More stories you may be interested in
.