Health
How 'state-of-the-art' Davis Catalyst Center is providing students with unique opportunities
Davis School District's state-of-the-art Davis Catalyst Center in Kaysville is pictured on Tuesday. The center, which focuses on career and technical education pathways, allows students to work on advanced projects in partnerships with real-world businesses. (Jeffrey D. Allred, Deseret News)
Estimated read time: 4-5 minutes
KAYSVILLE — Evan McCausland knew that he wanted to make a living working in cybersecurity.
Typically, there isn't much room in a high school curriculum for students to explore interests like McCausland's, but that's changing in Davis County thanks to the new Davis Catalyst Center.
"I think this is definitely a very good opportunity for people to try out the things that they think they would like," said McCausland, a senior at Davis High School.
Students, school district leaders and Davis County community members filled the Catalyst Center in Kaysville on Tuesday to cut the ribbon for the first-of-its-kind facility in Utah, and to see what kind of projects the students there have been working on.
The Davis Catalyst Center is a state-of-the-art education center that focuses on career and technical education, or CTE, pathways and enables students to work on advanced projects through partnerships with real-world businesses and organizations such as Epic Games, Adobe , Intermountain Healthcare, Hill Air Force Base and many others.
"Here, we partner with industry to create the next generation of professionals," said Brian Hunt, the center's director. "We focus on technical skills, but we also focus on professional skills. This is a special place where students work on real-world projects."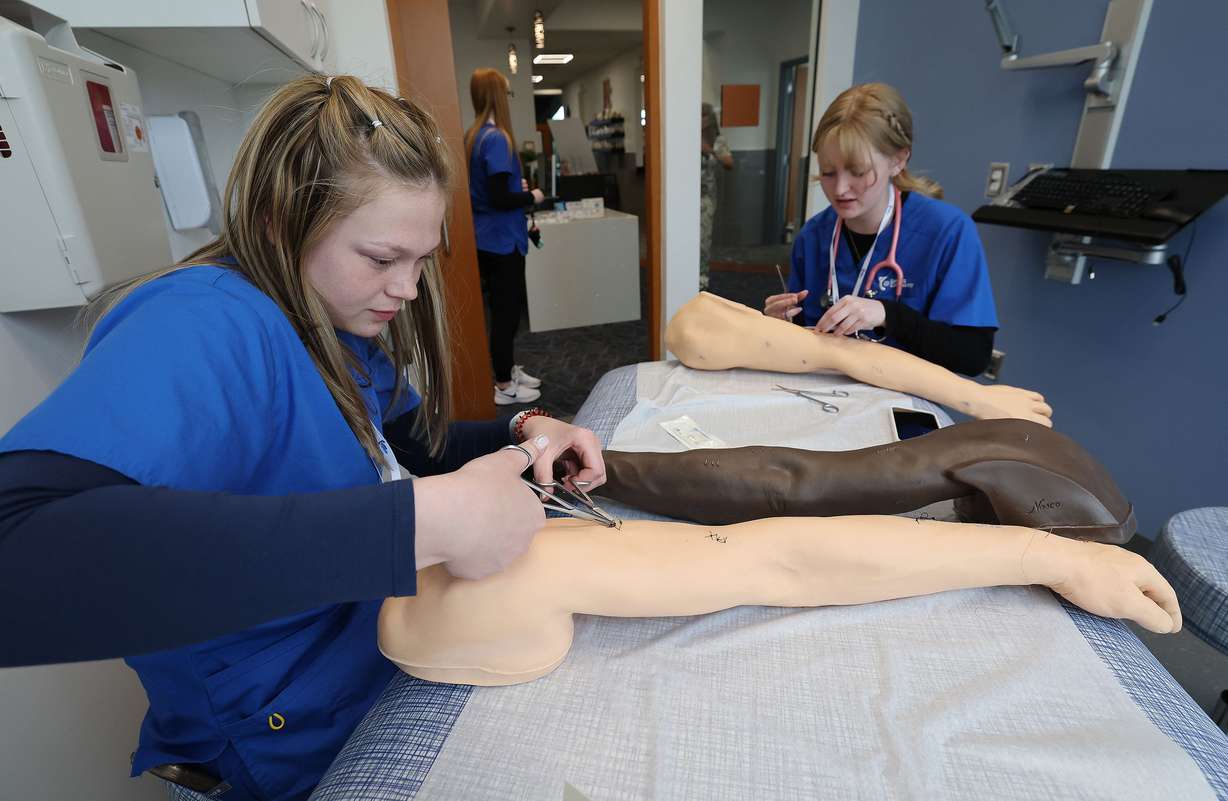 The 37,717-square-foot building, which used to house a tax preparation company, was transformed from an office building designed by VCBO Architecture. The architecture team made some deliberate design choices to incorporate the spirit of the center into the building.
LED lighting can be seen all around the building, traveling jaggedly from the exterior through the interior in a move to symbolize the pathways that lives take — rarely a straight line. Additionally, copper — a catalyst — is intentionally displayed throughout the building, signifying conductive properties, said Jeanne Jackson, principal at VCBO Architecture.
Hunt on Tuesday touted the center's strong career and technical education offerings for Davis County high schoolers. "We have amazing CTE teachers all across the district and what this is is just adding one more opportunity for our students," he said."
The educational pathways offered through the Davis Catalyst Center include:
Computer Science (cybersecurity, advanced game design)
Unmanned Systems
Digital Entertainment and Media Production (audio production, graphic design, video production)
Business, Marketing and Entrepreneurship
Culinary Arts
Medical Assisting
PharmacyTech
Students enrolled in programs at the Catalyst Center attend there for two class periods of their school day, every other day.
"This place is specifically built to partner students with industry so we work with all sorts of industry partners to give students authentic, experiential learning experiences — and that's what's different about this place," Hunt said.
The students think so, too.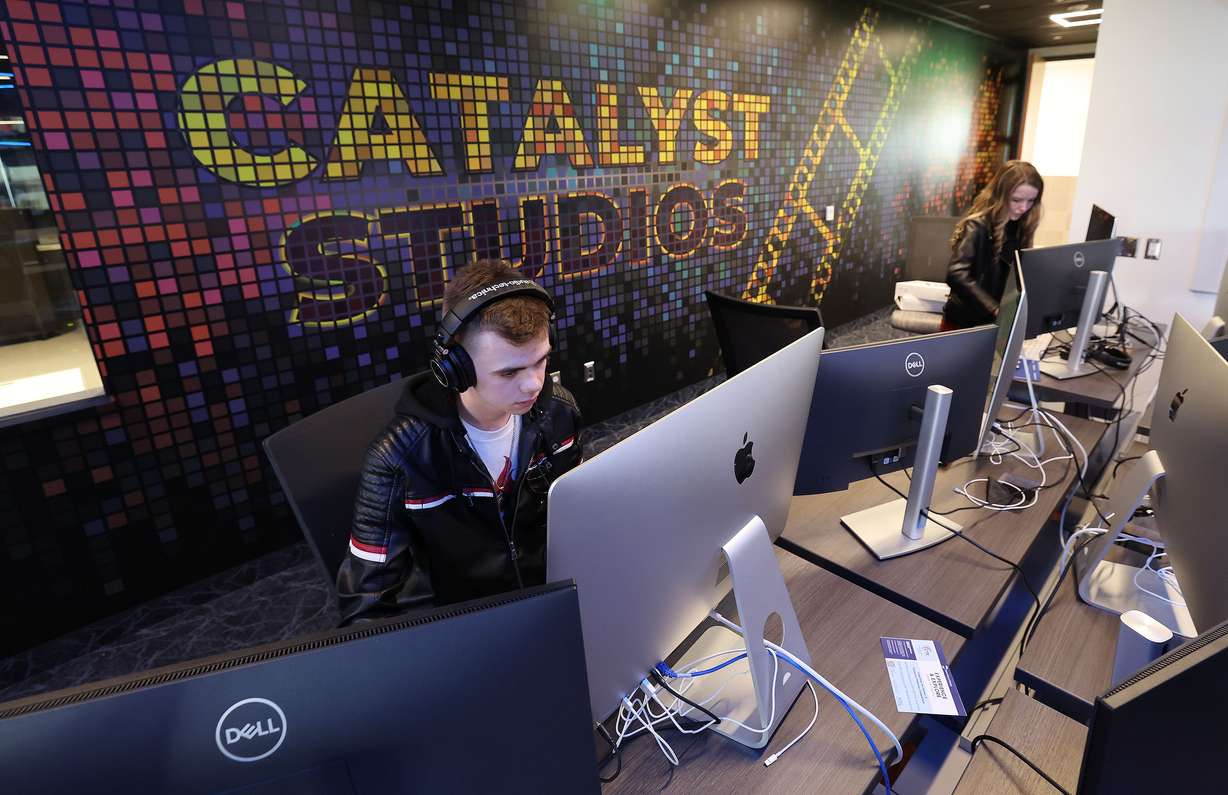 Ty Barney is a junior in the Davis School District studying business, marketing and entrepreneurship at the Catalyst Center. He heard about the center through emails sent to his mom from him, who then encouraged him to check it out.
"I tried it and I really liked it," Barney said. "It almost feels like college. Obviously, I haven't been to college, but it's kind of like that. It's very relaxed, for example; we don't have normal classrooms."
Barney is currently working on developing an app for Davis School District called "school binder," which aims to simplify school communication in a safe and secure way.
Like McCausland, who said coming to the center "absolutely" solidified his decision to pursue cybersecurity, Barney has also found reassurance through the center.
"I already know that I want to do business, but yeah, that just reinforces it," Barney said.
Even though McCausland is a senior and nearing the end of his time at the Catalyst Center, he said he's appreciative of the time he was able to spend there and that he's excited for future students to take advantage of the center.
"It's an amazing experience. I mean, the people here are great. They want to be here. There's no one being forced to take a class like this, (and) the teaching style is amazing," McCausland said. "It's very helpful for people who want to know: Is this something I want to do in the future, or is this not for me?"
Any Davis School District high school student who has started a career and technical education pathway at their own high school is eligible to apply for a spot at spot Catalyst Center, if their chosen pathway aligns with one of the center's pathways.
"We really want this place to encourage kids to take CTE classes back at their home high school, wherever that is… then come here for, kind of, the more advanced… capstone experience," Hunt said.
Potential industry partners interested in working with the Davis Catalyst Center can get more information by emailing Natalie Stromberg, business development coordinator for the center, at nstromberg@dsdmail.net.
Both students and district leaders alike expressed their hopes that the Catalyst Center can serve as an inspiration for other educational ventures across Utah and the country.
"Our students are going to make this place great, our faculty is going to make it great, it's been set up for greatness," said Reid Newey, Davis School District superintendent.
×
Photos
Most recent Utah K-12 education stories
More stories you may be interested in
.