Sports
Highly sought transfer big man Johni Broome picks Auburn
Auburn is replacing the Southeastern Conference Defensive Player of the Year with the Ohio Valley Conference Defensive Player of the Year with Johni Broome planning to transfer to play for Coach Bruce Pearl's Tigers. Broome, at 6-10, 235 center, made the announcement on Saturday.
Following a coaching change at Morehead State, Broome entered the transfer portal after playing two seasons for the Eagles. He has three more seasons of college eligibility.
He chose the Tigers over Florida and was recruited by programs around the country after averaging a double-double last season with 16.8 points and 10.5 rebounds per game.
Broome said a major key in his decision was finding the "right fit" on where to play for the 2022-23 season. "Obviously, Auburn qualifies for that with a great coaching staff, great players to be around and a great community to be around," he said. "Auburn has those things. Auburn has a staff that I think can help me take it to the next level."
He will join a trio of high school seniors in Auburn's 2022 signee class. That group includes 6-1 point guard Tre Donaldson from Florida State University School in Tallahassee, 6-6 guard Chance Westry from Compass Prep in Chandler, Ariz., along with 6-10 center Yohan Traore from Dream City Christian in Glendale, Ariz.
Auburn is replacing center Walker Kessler, who in addition to being SEC Defensive Player of the Year was the winner of two national defensive player of the year awards. Kessler set an Auburn single season record for blocked shots in 2021-22 with 155. Broome, who averaged 3.9 blocks this past season for Morehead State, set that program's single-season record for blocked shots with 131.
For the 2021-22 season Broome was named to the Lou Henson All-America Team and was a finalist for the Lou Henson Mid-Major Player of the Year award. He made 55.5 percent of his field goals and led the OVC in rebounding. Broome is one of seven players in Morehead State history to produce more 500 points and 300 rebounds in a season.
He saw action in all 34 games for the Eagles and averaged 28.3 minutes of playing time per contest. Broome finished the season with 23 double-doubles. I have posted a collegiate-high total of 18 rebounds vs. Belmont. He just missed a triple-double at UT-Martin with 19 points, 12 blocked shots and nine rebounds.
Broome and the Eagles played at Auburn this past season. The Tigers won that contest 77-54 on Nov. 9th as Broome scored 12 points while adding rebounds.
As he did this past season, in 2020-21 he led Morehead State in scoring (13.8 points) and rebounding (9.0) while making 57.1 percent of his field goals. Broome was the OVC Freshman of the Year, First Team All-OVC and the league's postseason tournament Most Valuable Player. He was OVC Freshman of the Week nine times.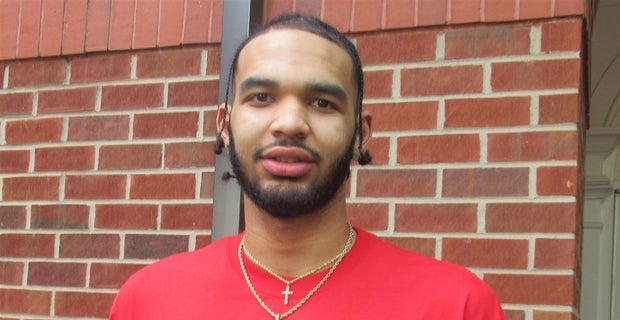 Broome said he liked the players on the Auburn team who will be his new teammates and the people he met on his visit to Auburn during Easter weekend. "Auburn has great fans and the community is great," said center, who noted that he will be surrounded by good players at AU. The Tigers will enter the 2022-23 season as the defending SEC champions.
As a high school senior he won Florida Class 4A All-State honors at Tampa Catholic High School with averages of 19.6 and 10.9 rebounds per game. Broome, who noted that he wasn't heavily recruited as a high school senior, said it is "crazy" how much attention he received. He narrowed his list of colleges to eight that included Duke, Gonzaga, Louisville, Houston, Memphis and Kentucky prior to choosing Pearl's Tigers over the Gators and new head coach Todd Golden, a former assistant coach at Auburn for Pearl.
Auburn has one more spot available for the 2022 signee class. A high priority uncommitted prospect, five-star forward julian phillips, took an official visit to Auburn this week. He is a senior at Link Academy in Branson, Mo.
*** Subscribe: Receive the latest Auburn intel and scoops***