Sports
Do They Stay or Do They Go? Deborah Stroman on UNC Basketball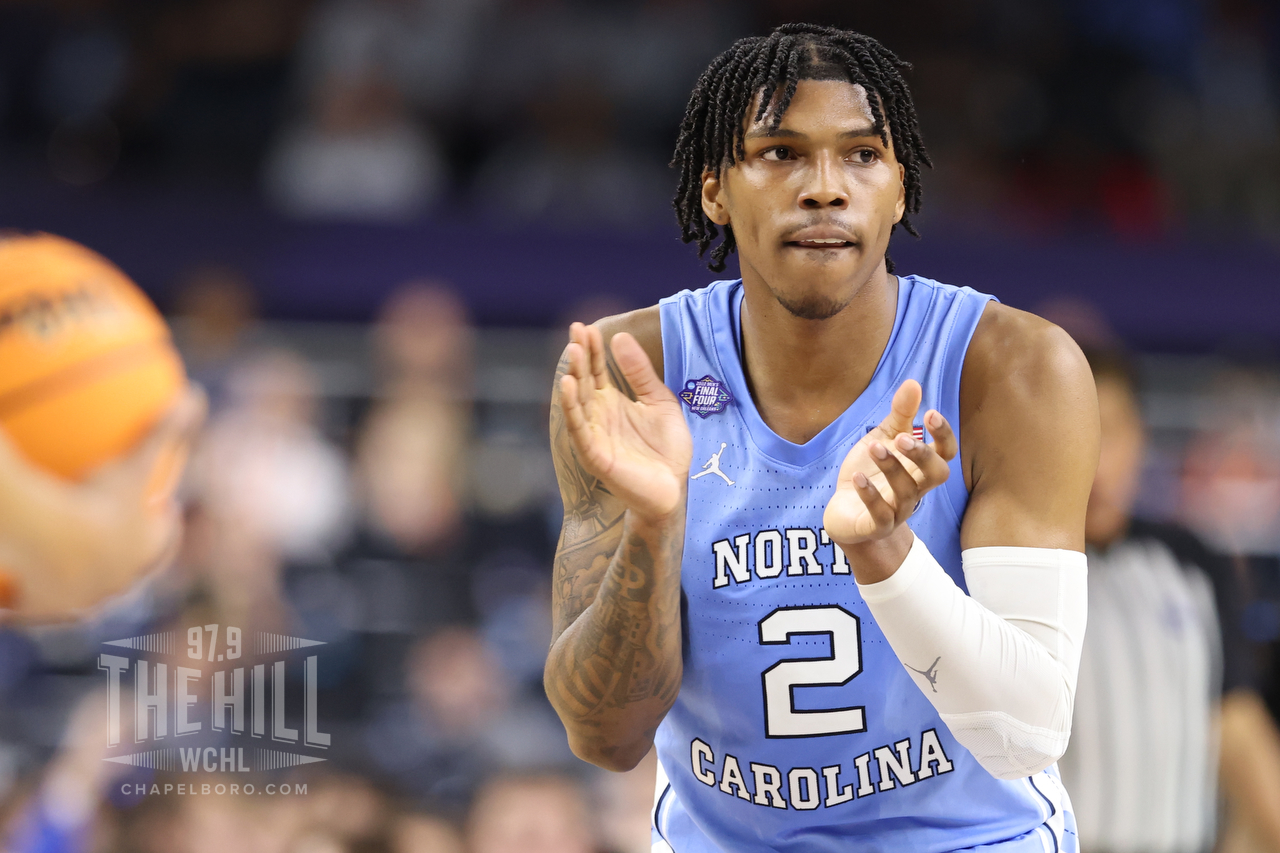 Leaky Black and Armando Bacot are staying. Anthony Harris and Dawson Garcia are transferring. RJ Davis and Caleb Love—for now, those are still open questions.
But for any college basketball player, the decision to stay, to transfer, or to turn pro is a pivotal one, a decision that could have ripple effects for years — and they only have a few weeks to make itonce the season ends.
What are the factors that go into that decision?
97.9 The Hill's Aaron Keck spoke with UNC professor and sports commentator Deborah Stroman, a former college basketball star in her own right.
Listen to their conversation.
Aaron Keck: Leaky Black and Armando Bacot are both coming back. What are your thoughts?
Deborah Stroman: You know, I got a little frustrated with some reporters, as we moved through March Madness and they acted like Leaky didn't even make a difference on this team. He's the one that everybody wants on their team. He does whatever it takes… and (his return from him) is a big win for Carolina men's basketball.
Keck: No one is going to want me to draw this comparison, but – every time, watching Leaky play and seeing the impact that he had on the court that can't really be quantified in any easy or obvious way, I was constantly reminded – there was a great article about Shane Battier from several years ago, and it was my first introduction to basketball analytics. It was about his role with the Houston Rockets, and how little of an impact he seemed to have in the obvious statistics, the points and the rebounds – (but) it just kind of happened that every time he took the court, the player that he was matched up against had a terrible night shooting. And Leaky Black is like that to me: a player that doesn't score a lot of points, doesn't get a lot of rebounds, but he was just the MVP of that team, I think.
stroman: Absolutely. And we know that everybody needs an assist person – whether it's personal or professional. (Players) like Bacot knew that Leaky would always have his back from him, would always try to get him the ball in the right spot, would also help out on defense, would also have an incredible defensive stop, which would spark the team. It's a big plus for Coach Davis, who speaks to the family atmosphere and how he was able to motivate the men to become very connected and improve their team chemistry, so they could make that run.
Keck: So Leaky's made the decision, Armando's made the decision, of course Dawson Garcia and Anthony Harris are hitting the transfer portal, (we're) still awaiting word from Caleb Love, and RJ Davis is presumably coming back. But all of these players not only have a really difficult decision to make, but they have a real short time in which to do it, just a couple of weeks to make this decision that's going to affect not just next year, but kind of shape the course of the rest of their lives. So what's going through these players' minds, and what are the things that they have to weigh here?
stroman: Well, particular to UNC: shooting. Shooting from the outside is needed. If Caleb Love does not return, it's going to be a challenge for the program. It's going to be tough to build a threat from the outside because we know Bacot will be double teamed again – and not having Brady Manek there to shoot that shot, that's going to be challenging. So we'll see what happens.
But in general, what are players thinking about, elite players? A few things. Number one, the value of the diploma. Should you stay? Because the Carolina degree is arguably second to none, the connections, the people that you meet, the education that you receive.
The second (factor) would be the team chemistry, or the love for the coach. Are you connecting with the coach? These guys really like each other, they really do. You can see that in their emotions. So that's a reason to come back. (And) there are many players that just are (at a school) because they want a tradition. They like the students that have come out of the program. So they stay, even if the relationship with the head coach is not good. (But) I see at UNC men's basketball, they love their coach.
Then I would say, what is your goal in terms of athletics? Are you there to play in the program, get some playing time, or just be a part of the team? Or are you there to play and showcase your talents for the next level? (Do) you need minutes?
And some players decide to stay because they like the spotlight. You know, you're playing against the best talent in the country with the ACC, and what better way to demonstrate on the big spotlight than to do it in college. Others say, Nope, I've got to go, I want to go to the next level and prove myself.
Now, (there are) two areas that people don't think about with the transfer portal. Number one, not everyone who leaves is leaving due to basketball reasons or football reasons or whatever. It's because they aren't doing well in the classroom. If they come back, they're going to be on suspension, or they just aren't able to come back academically. I get frustrated when I see people (complaining) about players leaving early – they might have to leave because they didn't keep up with their grades.
And then the second thing to remember is that when you go into the (transfer) portal, as soon as you go in, the coach now has the right to pull your scholarship. And so I encourage players: if you're thinking about the portal, you need to talk to your parents, your guardian, because they might not know that if you decide to stay at the university, now your scholarship's gone.
Keck: If you are Hubert Davis or any coach, obviously you've got to be concerned about your individual players and their future, and you're trying to guide them to make the decision that's best for them, both short term and long term. But you've also got to be concerned about the state of your program. So you've got that weighing on you as well. With that in mind, is there any circumstance – outside of the unusual, like Dawson Garcia, who has to enter the transfer portal so he can be closer to his family – but is there any (other) circumstance where you, as a coach, would advise a player to transfer?
stroman: We know that one of the most important things that coaches can do is give direction – so, sitting down one-on-one with players and saying, this is what I see with your game. This is where I see your game can improve. And I believe that (with) your skill set, you're not going to get a lot of minutes here. And so you might want to consider the transfer portal. Some people might say, well, that's really ugly, why would you do that? But you don't want to lead a player on who's thinking that they can get a lot of playing time so that they can go pro. Players get bitter, players cause chemistry problems on the team: "well, the coach told me this, the coach never told me that I really wouldn't get these minutes."
Keck: And then the other factor that is kind of new in the last year or two is NIL – name, image, and likeness rules, where players can now profit off that and make some money. To what extent do you think that's a factor for players making this decision?
stroman: I don't think it's much of a factor. The research is showing that right now, women are the ones who are really benefiting by the NIL legislation. But what we do know is that if you're good, donors with money, fans with money, corporations with money who are looking for branding, they're (all) going to find you.
Now, I'm seeing more work to try to create NIL opportunities that are regional. So if players (are thinking about transferring), they're going to lose this regional NIL opportunity. And so that will keep (them) close to home. But that's a small factor right now. And it's a wild wild west out there for NIL and the transfer portal.
Keck: Caleb Love has not made the announcement yet. Do you think he stays or goes?
stroman: I think he stays.
Keck: I think he stays too. He's kind of teasing it on Twitter already. We'll see.
stroman: I think that run he had – and showing his emotion at the end of the last game – I think he's interested in coming back. And, you know, as much as some in Tar Heel nation will say, oh, you got to make it back to the Final Four, I think they'll be okay just being back. They don't need to win a championship next year. Now they're going to be driven to do so – but I think they'll be fine if they don't win the ring.
Photo by Todd Melet.
---
chapelboro.com does not charge subscription fees, and you can directly support our efforts in local journalism here. Want more of what you see in Chapelboro? Let us bring free local news and community information to you by signing up for our biweekly newsletter.
Related