Sports
Desmond Bane downgraded to questionable for Tuesday's game
Memphis: Desmond Bane (back lower back soreness) has been downgraded to questionable. Ziaire Williams (right knee soreness) has been upgraded to questionable.
Source: Alberto De Roa @ HoopsHype
What's the buzz on Twitter?

Meghan Triplet
@
Meghan_Triplett
Notes from Coach Jenkins press conference:
-can live with the Warriors taking tough shots, but not the easy ones: 2nd chance pts and fast break pts
-Desmond Bane dealt with soreness that crept up in Game 1
-bench didn't get stops and couldn't find their pace
-Grizz will respond- 3:06 PM
Taylor Jenkins said Desmond Bane is dealing with some general soreness that crept up during the game. He said Bane is doing alright and feeling a little sore like most of the players. – 2:32 PM
Taylor Jenkins says Steven Adams remains in health and safety protocols. He said Desmond Bane was feeling general soreness when he was being looked at during Game 1. – 2:15 PM
I don't know what the defensive strategy was on Desmond Bane but he was 3 for 10 (1 for 5 from 3) and just 9 points. That was critical against a guy who averaged 18.2 and shot 43.6 percent from 3 in the regular season. Rebounding was also huge. – 6:51 PM

Haralabos Voulgaris @haralabob
Melton in over Bane down the stretch has been interesting. – 6:12 PM
Big issue for Grizzlies is their wing scorers aren't scoring: Bane and Brooks a combined 5 of 22. Ouch. If Jaren and Ja aren't balling out, GSW is cruising. – 6:02 PM
Memphis is trying to survive a game with Bane/Brooks shooting a combined 5/22 FGs – 6:00 PM
…now let's see if Bane can overcome the ice timeout by Steve Kerr here in between free throws – 4:08 PM
Bane had to get yammmed on to enter the series, but he's here now – 4:06 PM

Sean Cunningham @SeanCunningham
Desmond Bane coming to life on both ends after being dunked on by Gary Payton. – 4:06 PM
Des Bane just had Steph Curry ice skating 👀 – 4:05 PM
Bane. Poor guy. – 4:04 PM

marcus thompson @ThompsonScribe
Warriors starting small: GP2, Curry, Thompson, Wiggins, Draymond
Grizzlies starting big: Ja, Bane, Brooks, Tillman, Jackson – 3:49 PM


Anthony Slater @anthonyvslater
Memphis starters: Ja Morant, Desmond Bane, Dillon Brooks, Jaren Jackson Jr., Xavier Tillman. That's a two big look against the Warriors even without Steven Adams available. – 3:04 PM
Steve Kerr on slowing down Ja Morant and Desmond Bane:
"We just have to do our best to limit their open looks and their easy points and see how it goes." – 2:13 PM
Pre-game reading for Warriors-Grizzlies…
Jordan Poole Unplugged – theathletic.com/3284338/2022/0…
Desmond Bane Unplugged –theathletic.com/3251402/2022/0… – 12:34 PM


james boyd @RomeovilleKid
#Grizzlies–#warriors game tomorrow has plenty of Indiana ties.
Memphis:
• Desmond Bane, Richmond native/ Seton Catholic alum
• Jaren Jackson Jr., former Park Tudor/La Lumiere star
• John Konchar, former PFW star
Golden State:
• Jordan Poole, played at La Lumiere w/ Jackson – 10:53 PM


Anthony Slater @anthonyvslater
Detailed it in the preview, but Desmond Bane profiles as one of the more similar players that Klay Thompson has ever faced in a playoff series. Similar size, strength, offensive shot diet, accuracy. Should be guarding each other plenty. theathletic.com/3279217/2022/0… – 1:37 PM
Jokic's 31.0 ppg led all players in the first round. He shot 57.5% from the field, highest among the top 25 scorers.
Klay, Bane, Hunter, & Cp3 had a higher TS%. – 2:15AM
Desmond Bane in the series vs. the Timberwovles
23.5 points
49.5% FG
48.2% 3P
90% FT
4 straight games with 20+ points
5+ FG made in each and every game of the series
Beast! #GrindCity – 1:21AM
Desmond Bane led Grizzlies in minutes, points, total field goals, and total 3s in this series.
Bane's +/- was +70. Next closest Grizzlies player in +/- was Brandon Clarke (+35) – 12:51 AM


Meghan Triplet @Meghan_Triplett
Desmond Bane said it's hard not to know that you're down 10 or 15pts. But Coach Jenkins is good about telling them to take it one possession, one quarter, one half, one game and one series at a time. It's about finishing the first one and onto the next. – 12:49AM
When Ja Morant, Desmond Bane, Tyus Jones shared the floor in playoffs, Grizzlies outscored Timberwolves 108-62 in 39 minutes.
In the other 249 minutes of the series, the Timberwolves outscored the Grizzlies by 13 points. – 12:48AM
The Grizzlies will face the Splash Brothers. They've been regarded as the league's best backcourt for a while.
I asked Ja Morant & Desmond Bane what people need to know about the Grizzlies' backcourt:
Ja: "We feel like we're one of the best backcourts in the league as well." – 12:44AM


Meghan Triplet @Meghan_Triplett
With about 36 hours until Game 1 of the semifinals, Ja Morant and Desmond Bane said they about to go to sleep and get some rest. – 12:43AM
What is Ja Morant and Desmond Bane like as a backcourt?
Bane: "Some killers man."
Morant: "Real headhunters" – 12:41 AM
Dillon Brooks on the Timberwolves focusing on containing Ja Morant and Desmond Bane:
"I think they thought I was gone shoot 1-for-10 again." – 12:31AM
Indiana native and former Seton Catholic (@SCiBelieve) star Desmond Bane, who now starts for the #Grizzlies, averaged 23.5 pts, 4.3 rebs and 2.2 asts in Memphis' six-game first-round series win over Minnesota. He shot 49.5% overall, 48.2% on 3s and 90.0% at the FT line.
📸 me pic.twitter.com/InpCA5hNEt – 12:07 AM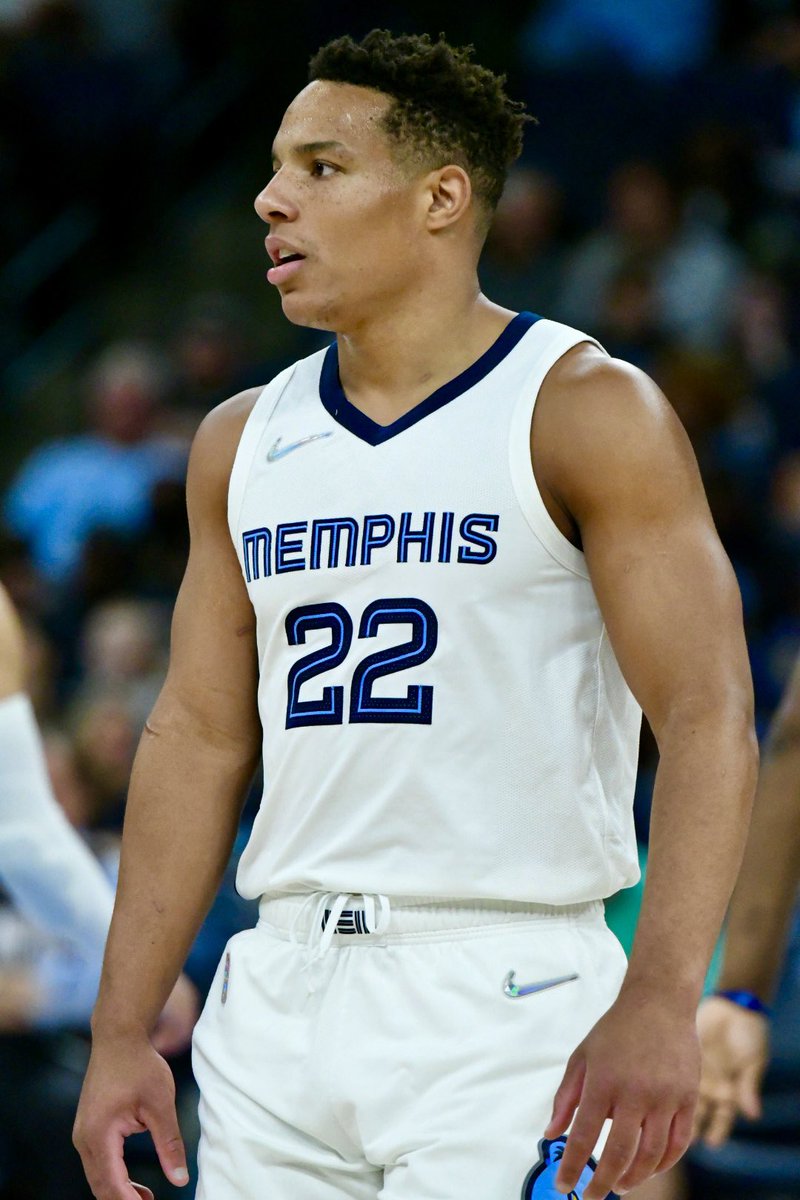 Desmond Bane deserves his national respect after that series. He just shot 50-48-90 on 24 points per game against a legit defense that made it a focal point to slow him down later in the series. He'll be playing in Memphis alongside Ja Morant for a long time. He was the MVP. – 12:00 AM


Meghan Triplet @Meghan_Triplett
Desmond Bane just said on @SportsCenter during his postgame interview that the NBA Most Improved Player Award trophy is still at his house in his kitchen but it is Ja Morant's trophy. – 11:58 PM
desmond bane was a +22 in a game the grizzlies won by eight pic.twitter.com/EbRLuSUjVo – 11:56 PM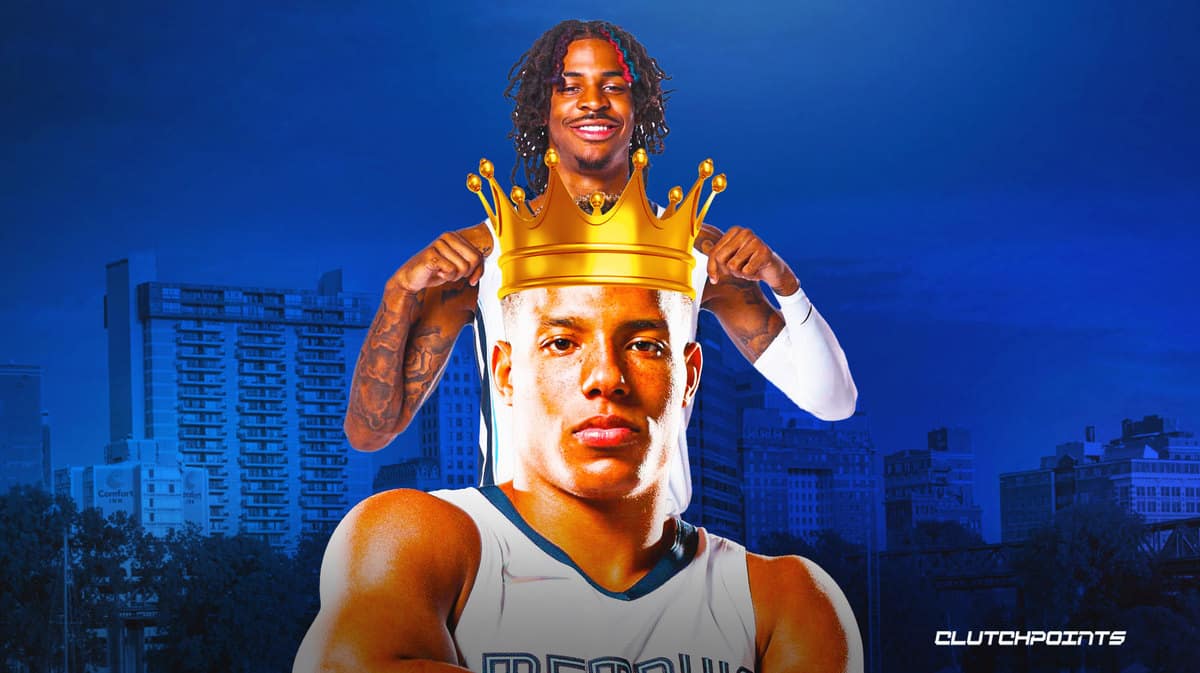 Desmond Bane averaged 24 PPG on 50/48/90% in the first round. pic.twitter.com/8jdHQUmHqD – 11:52 PM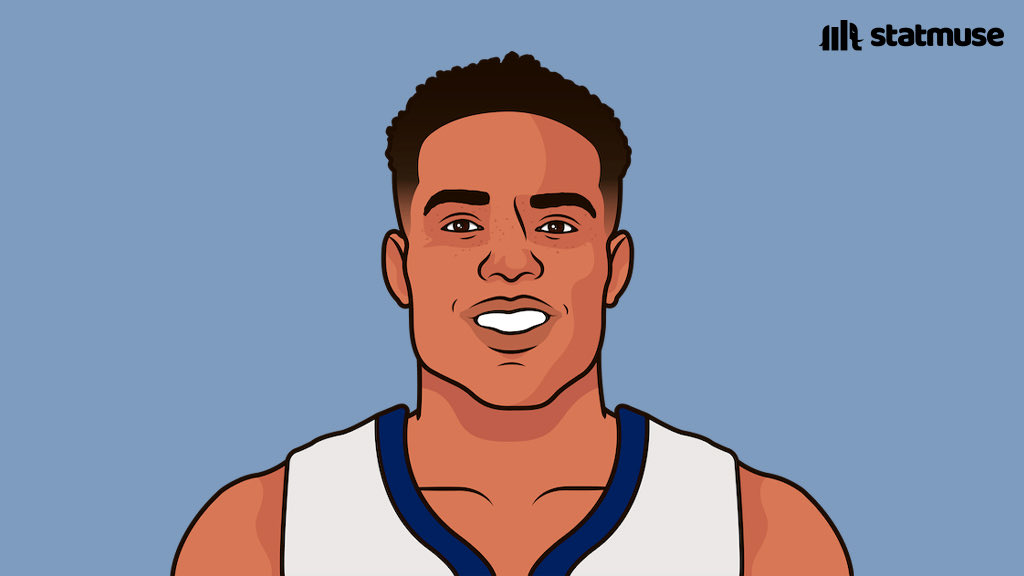 Meghan Triplet @Meghan_Triplett
Grizzlies defeat the Timberwolves 114-106 to win the series 4-2.
Bane: 23pts, 7reb
Jackson Jr: 18pts, 14reb, 2blk
Morant: 17pts, 8reb, 11st
Clarke: 17pts, 11reb, 5ast
Brooks: 23pts
@Memphis Grizzlies HEAD TO THE WESTERN CONFERENCE SEMIFINALS! – 11:49 PM
The Brandon Clarke and Desmond Bane series.
Both have just been utterly enormous for Memphis. Finding out that those two can be dudes in the playoffs is so critical to Memphis' future and how they build. – 11:48 PM

Kevin O'Connor @KevinOConnorNBA
Desmond Bane loves that fake pump – 11:36 PM


Meghan Triplet @Meghan_Triplett
Desmond Bane!!! – 11:35 PM
Desmond Bane just nailed a 3-pointer to give the Grizzlies a two-point lead as Pat Bev flew by him into the first row. wow- 11:35 PM
KAT has thrown the same shoulder at least six times this game that they just called Desmond Bane for an offensive foul for…..league definitely trying to get a game 7…take advantage Wolves!!! – 11:26 PM
What a huge shot by Desmond Bane. What a huge shot by Antony Edwards. – 11:25 PM


Chris Herrington @ChrisHerrington
Ja-Tyus-Bane-Dillon-Jaren for Grizzlies. Down 7, nine minutes to go. – 11:14 PM
The Timberwolves have gone with Pat Bev on Desmond Bane and they're still loading up when Ja Morant drives the ball. I mean, Dillon Brooks is probably getting the easiest shots on the perimeter right now. All about makes and misses. He's 7 of 16 and leads Memphis with 17 points. – 10:49 PM
Desmond Bane and Brandon Clarke have been so damn dependent on this series. – 10:22 PM


Chris Herrington @ChrisHerrington
Griz come out with Ja-Tyus-Bane-Brooks-Clarke, the small-ball lineup they used to close Game 5. – 10:07 PM
Grizzlies losing some momentum here in the second. Missing some shots they should make. Sending Bane back out there. – 9:59 PM


Meghan Triplet @Meghan_Triplett
Well that was an interesting 1st qtr.
Grizzlies knocked down 6 threes, had 9 assists on 11 shots, scored 7PTS off 3 Minnesota turnovers and Dillon Brooks (10pts) and Desmond Bane (13pts) have the hot hand!
Grizzlies down 29-28. – 9:45 PM
Nineteen 3FGAs, five fouls and just four FTAs ​​in the first 12 minutes. Breezy opening quarter by the standards of this series.
Minnesota 29, Memphis 28.
Anthony Edwards 16p, Desmond Bane 13, Dillon Brooks 10. KAT 4p on 2/6 FG.
Morant (5a) and Russell (3a) scoreless. – 9:45 PM

Christopher Hine @ChristopherHine
End of the first quarter and it's Timberwolves 29, Memphis 28.
Anthony Edwards has 16 points and looks locked in, to say the least. Jaden McDaniels with 9 and Towns with 4. Bane with 13 for Memphis, Brooks with 10. Morant scoreless but has 5 assists. – 9:42 PM
Love the composition from the Grizzlies early. Bane and Brooks have combined for 21 of first 24 points. Jaden McDaniels can't keep shooting like this, right? – 9:35 PM


Chris Herrington @ChrisHerrington
Jaden McDaniels is 3-3 from 3 in two minutes off the bench for Wolves, neutralizing the hot shooting of Bane/Brooks. Grizzlies 24, Wolves 22. Ja still scoreless, but five dimes. – 9:33 PM


Meghan Triplet @Meghan_Triplett
Desmond Bane once again showing us that he's that road warrior! – 9:32 PM
D BANE BE HOOPING!!! – 9:32 PM


Chris Herrington @ChrisHerrington
Bane has turned on the flamethrower again. Jaden McDaniels (!) answering. – 9:32 PM
Desmond Bane 🔥🔥🔥🔥 – 9:31 PM
Memphis adjusting to having Dillon Brooks guard Anthony Edwards.
Brooks had been guarding D'Angelo Russell. Now Desmond Bane is on DLo. – 9:20 PM
More on this storyline
.