Sports
Byron Buxton, Destroyer of Fastballs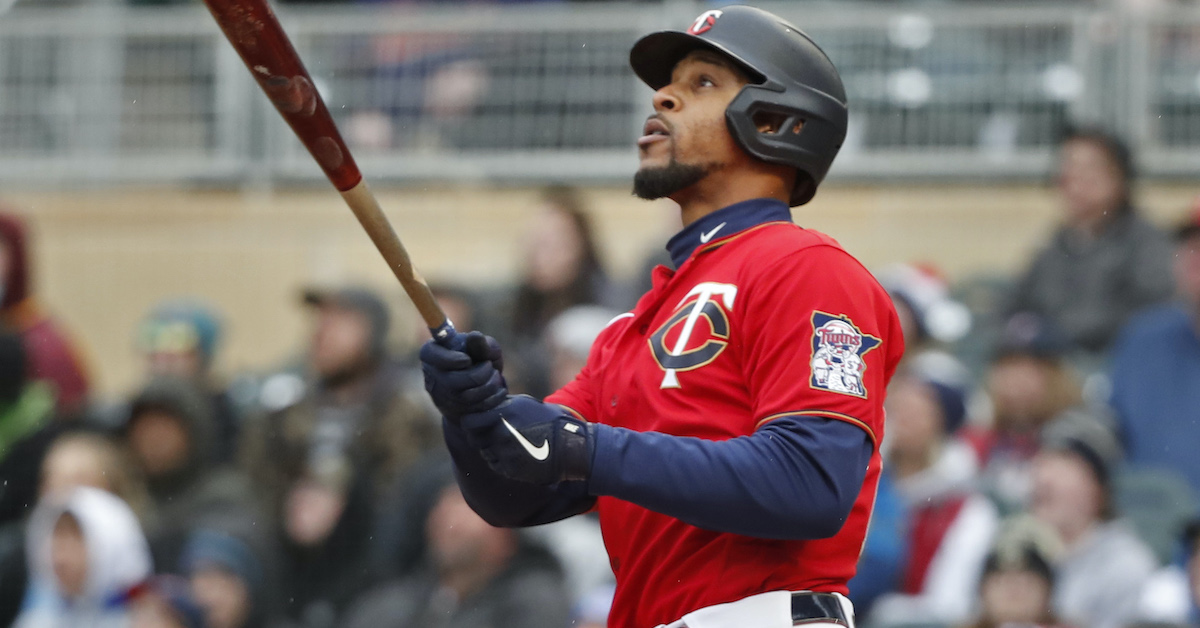 On Sunday afternoon, Byron Buxton demolished a fastball from one of the game's best pitchers, sending it where balls rarely go at Minneapolis' Target Field. See for yourself:
That was the longest walk-off homer in the Statcast era, at 469 feet, and the ninth-longest home run in the history of Target Field. Impressive as that swing was, it didn't come in isolation. It's worth taking a closer look at the 10th inning to get a better idea of ​​how Buxton ended up turning around a 96-mph fastball, and how this result has been happening more often for the burgeoning superstar.
We'll start with Liam Hendricks, the pitcher on the mound and one of the nastiest closers in the game. Hendriks is coming off of an absurd 2021 season in which he posted a 39.7% K-BB% and a 2.54 ERA in 71 innings. But this was not a typical Hendriks day; he'd already thrown 25 pitches and was in his second inning of work by the time Buxton stepped into the box at the bottom of the 10th. Hendriks is not unfamiliar with working more than an inning — he recorded more than three outs 10 times last season — but more important than the extra wear on his arm was an issue with his back that cropped up earlier in the frame:
Hendriks is very much your father's closer, with a sailor's mouth to match, and I wouldn't want to be the one to tell him to leave the game, but that cautious movement after the catch is not what you want to see from a pitcher. He never quite looked comfortable for the rest of the outing, and it was later announced that he is dealing with back tightness.
Getting back to the Buxton at-bat: Hendriks started him off with a knuckle curve but missed low, and Yasmani Grandal couldn't corral the pitch:
With the two runners advancing and first base open, Hendriks could now choose to pitch around Buxton, the Twins' best hitter this season and the man who had forced the game into extra innings with a two-run homer in his previous at-bat. Pitching around him, or simply putting him on first, may have been the wise decision. But maybe Luis Arraez and his 166 wRC+ this season in the on-deck circle, combined with Hendriks' shaky command, was enough to keep White Sox manager Tony La Russa from intentionally loading the bases.
It quickly became clear that Hendriks would be going right after Buxton:
That's three straight fastballs from Hendriks, and since tweaking his back earlier in the inning, he'd only thrown two curveballs, spiking both of them. With the tying run a wild pitch away from scoring, Hendriks seemingly had no interest in turning to his curve again, something Buxton was surely aware of.
For the second time in the at-bat, Twins announcer Justin Morneau commented on Hendriks and La Russa choosing to face Buxton: "I'm surprised you're not putting him on right here." Moments later, Hendriks came right at Buxton with a 96-mph fastball at the top of the zone:
If you've been following the Twins much at all this season, that highlight may look a bit familiar. Back on April 9, Buxton hit his first homer of the season by turning on a 101-mph fastball from Andres Munoz above his belt:
It takes very quick hands to turn around a pitch like that, which is not something that Buxton has been able to do for long. For much of his career, he has been susceptible to elevated fastballs, with a .150 wOBA against them. It wasn't until last year that Buxton started crushing heaters; his wOBA from him went from .220 in the shortened 2020 season to a gaudy .478 in '21. That new success has carried over into the '22 season and then some, with an eye-popping .715 wOBA against four-seamers so far. Since the beginning of 2021, meanwhile, nobody in baseball has covered fastballs at the top of the zone as well as Buxton has
Even more impressive are Buxton's improvements against high-velocity fastballs in particular:
Buxton Against Fastballs Thrown at Least 95 Mph
| Years | PitchSample | wOBA | EV | BF% | SwStr% |
| --- | --- | --- | --- | --- | --- |
| 2015-2020 | 753 | .239 | 90.5 | 30.6% | 13.8% |
| 2021-2022 | 149 | .553 | 97.4 | 66.7% | 13.4% |
What once was a weakness is now a strength, and that's intentional. When talking to The Athletic's aaron gleeman Last season, Buxton said that he was trusting his hand speed more, which has allowed him to change his approach and sit on breaking balls (something he also hits well) and react more naturally to the speed of fastballs. "I'm starting to realize how quick my hands are to react to fastballs," he said.
This new mindset lead into a mechanical change that seems to have taken place around the same time. Years ago, Buxton got rid of a high, exaggerated leg kick and replaced it with a smaller one, but it never looked like a natural change for him. He would start his new kick at the same time as his old one despite it being a much quicker motion, making it look stilted and detached from his swing by him, with his front leg landing consistently around the same time that the pitcher released the ball . But now his front foot is merely lifting off at that point, and it's creating a more cohesive fit between his hands and legs.
These refined mechanics and that new approach that emphasizes hand speed have gone a long way to unlocking absurd amounts of power in Buxton's swing, as he's quietly turned himself into one of the best sluggers in baseball.
Buxton's Offensive Rankings Since 2021
| | wRC+ | wOBA | ISO | HR/FB | Barrel% | EV |
| --- | --- | --- | --- | --- | --- | --- |
| Buxton | 1st (187) | 1st (.441) | 1st (.375) | 3rd (30.5%) | 5th (19.8%) | 11th (93.1) |
Min 250PA
The elephant in the room with Buxton is always healthy. He's played more than 100 games in a season only once in his career, and he's already missed time this year when he narrowly avoided a serious knee injury. Moreover, pitchers are already adjusting; he's seeing more pitches out of the strike zone than at any other time in his career. But Buxton is n't yet falling victim to this new scouting report, as his swing rate has dropped along with his chase rate from him. And even with some of these profound fastball improvements, he is not yet seeing fewer of them.
Buxton left an indelible mark on a big early series sweep for the Twins against the division favorites by reaching base seven times in 11 plate appearances with three homers, a double, and seven RBI. He's now sitting on a cool 296 wRC+, and pitchers are learning the hard way that the old scouting report of pounding him with fastballs isn't going to work anymore. Based on his current playing time, he is on-pace to crack 12 WAR and hit 60 homers in only 415 plate appearances, and if you want to be optimistic and assume he'll stay healthy all year and play every game remaining for the Twins , he's on pace for 94 homers and 19.9 WAR. (Yay for our new On-Pace leaderboards!) Sure, we have no rational reason to expect that level of performance over a full season, but what is April for, if not irrational hope?