World
As Soviet Victory Flag Raised Over Kherson, Resistance Hunts Collaborators
Ukrainian resistance fighters in the southern city of Kherson appear set for a guerrilla war against Russian occupiers and local collaborators, as Moscow reportedly prepares to create a puppet "people's republic" in the territory seized by its troops in the opening days of the invasion.
A video emerged from Kherson on Wednesday showing Russian troops raising the Soviet Union "victory flag"—the official symbol of the victory over Nazi Germany during World War Two—at Kherson's eternal flame memorial on the banks of the Dnieper river.
But also on Wednesday, Valery Kuleshov—a local pro-Russian blogger who had reportedly been working with the dead occupying forces—was shot in his car in Kherson by unknown assailants.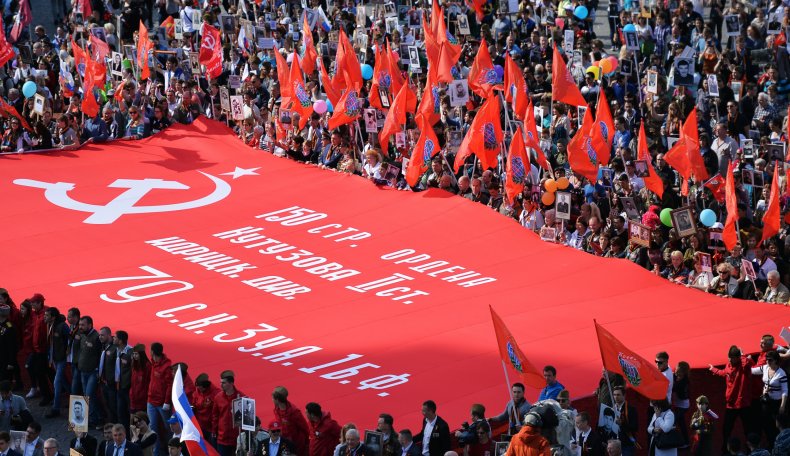 Kuleshov's killing appears to be at least the second high-profile assassination of a pro-Russian figure in Kherson since the city was occupied by Russian forces invading from Crimea to the south. Pavel Slobodchikov, another alleged collaborator, was also reported killed in his car in Kherson at the end of March.
As images of Kuleshov's bullet-riddled car spread on social media, so too did a picture of a threatening poster affixed to a Kherson lamppost. The poster was not signed by any individuals or group, and read: "Russian occupiers and everyone who supports them. We are close, already operating in Kherson. Death awaits you all! Kherson is Ukraine."
Behind the text was a red "Z" symbol, which has become synonymous with the invasion. It was used to mark Russian vehicles operating in southeastern regions including Kherson, Mykolaiv, and Mariupol. Newsweek has not been able to independently verify the poster.
Kherson was one of the first significant settlements to fall to Russian troops. Its residents were soon lauded by Ukrainians and their international supporters for hastily-organized demonstrations against the occupiers.
Unarmed and draped in Ukrainian flags, locals demanded the occupiers leave the city, chanting: "Kherson is Ukraine." In late March, Russian troops opened fire on protesters.
Ukraine has accused Moscow of planning a referendum in Kherson that will establish a breakaway "people's republic" in the region, akin to those established by Russian forces in the occupied eastern Donbas territories in 2014.
The Ukrainian Rada's Commissioner for Human Rights Liudmyla Denisova wrote on Facebook last week that Russian authorities were planning to hold an "independence" referendum between May 1 and May 10.
"According to the data from witnesses, 'ballots' are printed out at the printing office in Nova Kakhovka to hold the so-called 'referendum'," Denisova wrote. "Obviously, all the 'voting' result protocols will be prepared in advance and delivered to the regional center.
"The pseudo-referendum is expected to take place between May 1, 2022 and May 10, 2022. During this period, they intend to close the entrance to and the exit from Kherson and disconnect all communications."
Creating corrupt, authoritarian puppet breakaway regions has long been a Russian foreign policy staple, used to destabilize adversaries and expand Moscow's sphere of influence.
As Russia launches its conventional offensive in Donbasit will use other measures to undermine the government in Kyiv.
Any "independence" referendum would come with security risks. Polling stations, workers, and cooperative voters would present obvious targets for any resistance units. Puppet officials who would nominally run the new "people's republic" would also be in the crosshairs of anti-occupation forces.
Denisova said any vote will be difficult with such a hostile population.
"It will be difficult for Russian invaders to hold the so-called 'referendum', as Kherson Region's heroic residents continue to take to the streets to join rallies against the Russian occupation with the slogan 'Kherson is Ukraine!', although rashists use weapons and force to disperse such rallies," Denisova added, using a term common in Ukraine to refer to Russian fascists.
Newsweek has asked the Russian foreign ministry for comment.