Sports
6-Banner Sunday: Jordan Geronimo returning to Indiana for junior season – Inside the Hall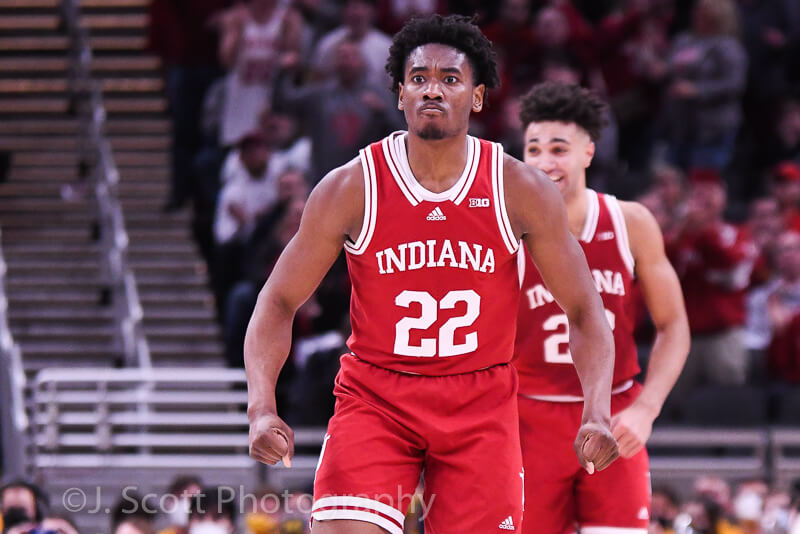 6-Banner Sunday is Inside the Hall's weekly newsletter in partnership with The Assembly Call. More than 9,000 Indiana fans receive the newsletter each week. In addition to appearing each week on the site, you can also opt to receive 6-Banner Sunday by email. A form to subscribe via email is available at the bottom of this week's 6-Banner Sunday.
Welcome to another edition of 6-Banner Sunday, a joint production between The Assembly Call and inside the hall where we highlight the five most essential IU basketball stories of the past week, plus take a look at how the other IU sports programs are doing.
Nothing happened in IU news this week that was unexpected. However, the Hoosiers got great news when a fan favorite confirmed he is staying with the team next year, leaving the last major roster unknown as Trayce Jackson-Davis' decision whether he will stay in the NBA draft. While IU's squad for 2022-2023 is mostly set, the four players who transferred out at the end of the 2021-2022 season have places to play now in the fall as well.
In non-roster news, a popular event is returning to the calendar later this spring after COVID has made it go away for a bit. Also, below are some updates on future Hoosier recruits and a major shake-up at the top of the NCAA. We will as always conclude with a look at how other IU sports are doing led by what Hoosier player was taken in the NFL draft.
In a bit of brief news, Inside The Hall took a look at which Big Ten players currently have their names in the NBA draft.
• Jordan Geronimo staying at IU
• Four UI transfers find new homes
• Huber's event is back after hiatus
• Recruitment news and updates
• Mark Emmert steps down as NCAA president
• Hoosier Roundup – McFadden drafted
Banner #1 – Jordan Geronimo staying at IU
While he never formally entered the transfer portal, Jordan Geronimo was the last player currently on the roster who had some questions about whether he would be on the team next season and he had not made his intentions clear yet. Many had wondered if Geronimo wanted more playing time given his freak athleticism and overall potential of him. He has some of the same traits as former Hoosier OG Anunoby.
However, if he is to become the next Anunoby type player, it will be in a Cream and Crimson uniform as he confirmed this week on his social media he will be a Hoosier next season.
If Trayce Jackson-Davis withdraws from the NBA draft, the big question is whether Geronimo can improve his 3-point shot enough to start at small forward next season? Geronimo has the height of a player more suited to play the three position but the athleticism and game that are closer to a power forward at the moment. He did show the ability to step out and hit a triple at times last year and might very well need to do that more this year with Race Thompson and Malik Reneau as true bigs who will occupy the post positions and possibly Jackson-Davis as well if he is back with the team.
Banner #2 – Four UI transfers find new homes
The Hoosiers did have four players enter the transfer portal almost immediately after the season ended (and none since). Michael Durr, Khristian Lander, Rob Phinisee, and Parker Stewart were the ones to announce they would play the rest of their college basketball careers elsewhere. Now it is known where this will be.
Durr will head back to the Sunshine State where he was at South Florida before he came to IU. However, he will switch schools going from Tampa to Orlando to play at Central Florida. Lander, who struggled to live up to his five-star recruit status at IU, will move a state away and step down a level to Western Kentucky. Phinisee will also be moving only a state over but going east instead of south to Cincinnati. Finally, Stewart will go back to where he was before similar to Durr, except to the same school he came to Bloomington from in Tennessee-Martin.
Banner #3 – Huber's event is back after hiatus
COVID has taken many things away over the past couple of years big and small. One of those was the annual Huber's Alumni Event each May where various IU coaches speak IU fans. This event has been a fan favorite for a long time just over the river from Louisville in tiny Borden, Indiana.
Now, this get-together is returning on the 25th of this month and IU coach Mike Woodson will be the featured speaker. Speaking of Woodson, Inside The Hall had an articles in their That's A Wrap Series looking back at his first year on the sidelines.
As for the event, anyone wanting to attend can call for tickets at 812-987-1513 now, or tickets are expected to be released online sometime next week. A sellout is anticipated so anyone wanting to attend should get tickets relatively fast.
Banner #4 – Recruiting news and updates
While no major recruiting news occurred this week, Inside The Hall did have some updates on a couple of future Hoosiers.
They had a Q & A with 2023 recruit Gabe Cupps, a spring highlight video from fellow 2023 recruit Jakai Newton, as well as a highlight video from Cupps.
Banner #5 – Mark Emmert steps down as NCAA president
After a tumultuous tenure and many questions about the future of college sports, current NCAA president Mark Emmert is stepping down.
The news broke Tuesday evening and Emmert will stay on until a successor is found or June 2023 at the latest. Issues with NIL have marred his tenure highlighted by a 9-0 Supreme Court decision against the NCAA last summer forcing the current implementation of name-image-likeness for athletes. Also, years of gender equality issues with March Madness blew up in 2021 following a photo from a player showing the drastic difference between the weight rooms men and women had at their events.
Banner #6 – Hoosier Roundup – McFadden drafted
Following a terrific career at IU, linebacker Micah McFadden was taken in the fifth round of the NFL Draft today by the New York Giants. He is the 13th Hoosier drafted since 2014. While no other Hoosiers heard their name from him called during the three-day event, WR Ty FryfogleOL Caleb-JonesDB Raheem Layneand TE Peyton Hendershot all inked undrafted free agent deals later on Saturday.
In other news:
• Baseball fell in the series finale to Nebraska, before strong midweek victories over Butler and Illinois State. They are currently playing a Big Ten series against Illinois and have split the first two games.
• Softball lost the final game of their series to get swept by an elite Northwestern team before sweeping a doubleheader against arch-rival Purdue and falling twice to Illinois.
• rowing won the Dale England Cup for the fifth straight year.
•Track and Field competed at the Penn Relays.
• Men's Golf placed 6th last week in a tournament in Columbus Ohio and currently sits 10th at the Big Ten Championship with a day left.
• Women's Golf finished 13th at the Big Ten Tournament but will send freshmen Aine Donegan to postseason play as an individual.
• Water Polo had their season come to an end with a win in the fifth-place game of their conference tournament against San Jose State.
• Men's Tennis had their year come to a close with a loss to north western and then later in the Big Ten Tournament to Michigan in the second round after opening with a victory over Penn State.
• Women's Tennis had their season end with losses to Wisconsin and then in the conference tournament in the opening round to Maryland.
• Women's Soccer announced its schedule for the fall.
Thanks for your continued support for The Assembly Call and Inside the Hall. We'll be back next weekend with a new roundup.
Now go enjoy yourself a 6-banner Sunday.
Aaron (Ari) Shifron
Assembly Call Contributor
Filed to: